Your kitchen 2 minutes from the Boqueria Market
Who are we
La Cuina de la Boqueria is a team of people who work with a lot of enthusiasm and dedication to make your event a success.
What we offer you
We offer you a private and unique space (almost 200m2) in the heart of Barcelona, with a lot of warmth, great charm and above all with a human team, which puts all the love and enthusiasm into organizing what you need, which will make you feel at home.
Teambuildings for companies, family and friends celebrations, cooking workshops, ... whether it is a corporate event or for individuals, a lunch or a dinner, informal cocktail type or seated at the table, for either large groups and smaller, intervening in the kitchen as if you only needed the space... Contact us and you'll see how we can organize everything you can think of.
Where we come from
2016, a year where many things changed, where beautiful things began and where others ended. It was a very complicated year, a project was starting, La Cuina de la Boqueria, where Jordi Badosa and Núria Bertrana put all their efforts, enthusiasm and time.
Jordi was a UNIQUE, BRILLIANT AND FAMILIAR person. He enjoyed seeing his people enjoy themselves, a man who attached great importance to the happiness of his friends and family, with a spectacular calling ability, a great husband, a great father, a great friend,... a great person.
Jordi always shared his hobbies with his people. We will never forget the barbecues, the rice dishes and the grilled meat and fish. He loved fishing, riding his motorcycle, walking in the mountains with his dog and 4x4. Basically enjoy those little things.
Going back to 2016, in the Hospital Clínic room, between doctors' visits, treatments and long hours of waiting and uncertainty, Jordi and Núria finished shaping what today is La Cuina de la Boqueria. A few days before the works began, Jordi died of cancer at the age of 57, leaving the project in the hands of his wife Núria... Difficult times, but where we learned many things from a disease that neither asks for permission nor forgiveness . Jordi told us on this bed: "enjoy the little moments, they are more fulfilling than the big ones" and so, 7 years later, La Cuina de la Boqueria keeps walking, making all our customers enjoy these little things of life. Every day we bring the excitement of the first event, the dedication that Jordi always put into everything, the details, Núria's experience and, above all, the love that this great project brings.
And to finish a phrase that Jordi always repeated to us: "HOW WELL YOU ARE, WHEN YOU ARE WELL". From the La Cuina de la Boqueria team we wish that whenever you share moments with us, when you leave the door, you can say what he always repeated to us.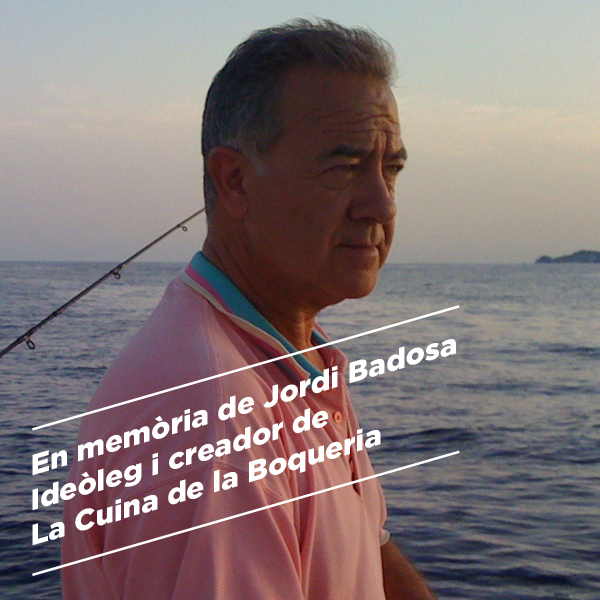 The kitchen
Space designed around the stove where we can share, learn, taste or cook with friends, with a table designed for students or diners who want to discover a world of textures, colors, smells and flavors, in short, a gastronomic meeting space for friends of good cuisine.
The room
It is the quiet and private space that allows us to share and participate in cultural activities, events and meals with friends, family or company, a space, different and prepared for all kinds of events.